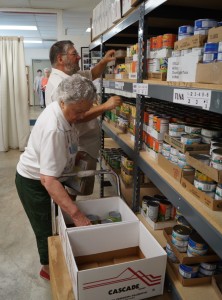 Newberg FISH is a member of the Oregon Food Network, a cooperative network of agencies focused on providing emergency food. FISH is an acronym, which stands for Friends In Service to Humanity. Newberg FISH focuses its efforts on providing emergency food services, as well as cooperating with other local agencies to help people meet other critical needs such as housing, medical and dental care, and job placement. Newberg FISH staff members are 100% volunteer, as they have been since our founding in 1970. Last year, Newberg FISH assisted 16,388 people (average 1,366 each month) and 4,648 households (average 387 each month). 2015 marks our 45th anniversary. Forty-five years after our founding, our focus is still neighbors lending a hand to local neighbors and families in need.
As many of you know FISH is an all volunteer agency. We will be honoring our volunteers on May 20th with a luncheon. If you would like to donate gift cards, services or other items to be given to volunteers at the luncheon, please let me know. This a great group of folks you have given so much to serve our friends and neighbors. No amount to small. Thank you in advance for your support.
FISH volunteers: Save the date for our annual Volunteer Appreciation Lunch on Saturday, May 20th at the FISH warehouse. Please call or email FISH to let us know if you will attend and how many we can expect. Time is 11:30-1:30, lots of good food and good times as we honor you for your ongoing dedication to our great community.
Another great fund raiser, First Federal Shred day. Your patrons and the citizens of Newberg donated 341 pounds of food and $55.00 for FISH. We thank you for sponsoring our efforts on April 15.