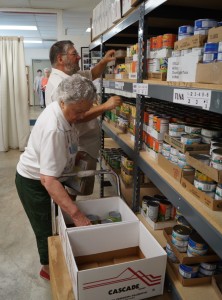 Newberg FISH is a member of the Oregon Food Network, a cooperative network of agencies focused on providing emergency food.
FISH is an acronym, which stands for Friends In Service to Humanity.
Newberg FISH focuses its efforts on providing emergency food services, as well as cooperating with other local agencies to help people meet other critical needs such as housing, medical and dental care, and job placement.
Newberg FISH staff members are 100% volunteer, as they have been since our founding in 1970.
Last year, Newberg FISH assisted 16,388 people (average 1,366 each month) and 4,648 households (average 387 each month).
2015 marks our 45th anniversary. Forty-five years after our founding, our focus is still neighbors lending a hand to local neighbors and families in need.
Who will be Newberg's Chili Cook-Off winner? Newberg FISH Chili Cook-Off event on Saturday! Come out and sample 11 different recipes or have a bowl of your favorite. Starbucks coffee and Jem 100 strawberry ice cream. Warehouse tours at 10:00, chili judging at 11:00. Everyone is welcome. (canned food donation always appreciated) FISH Is located at 125A S. Elliott Road.
Newberg FISH sends a BIG SHOUT OUT to Naps Thriftway for their partnership with FISH. They make a huge difference in helping us to provide great food for our clients and making their life just a little better. Next time you visit thank them for all they do to support our community! WE love this town!
Don't forget the cook-off this Saturday. Doors open at 10:00 for warehouse tours. Games for the kids, Judging by Newberg Fire Chief Les Hallman, Sharon Freeman, Jason and Sandy Thornton, owners of Grocery Outlet and Professor Trevor Smith at 11:00. Best of all great chili (until gone) and Jem ice cream for dessert. Who will be the grand chili winner?