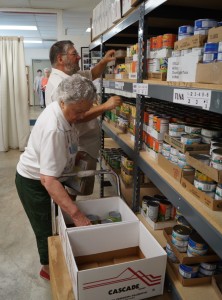 Newberg FISH is a member of the Oregon Food Network, a cooperative network of agencies focused on providing emergency food. FISH is an acronym, which stands for Friends In Service to Humanity. Newberg FISH focuses its efforts on providing emergency food services, as well as cooperating with other local agencies to help people meet other critical needs such as housing, medical and dental care, and job placement. Newberg FISH staff members are 100% volunteer, as they have been since our founding in 1970. Last year, Newberg FISH assisted 16,388 people (average 1,366 each month) and 4,648 households (average 387 each month). 2015 marks our 45th anniversary. Forty-five years after our founding, our focus is still neighbors lending a hand to local neighbors and families in need.
Wow! Newberg Scout Troops including the Heritage Girls brought in over 4600 lbs of food last week. Thank you to the kids and their parents for your hard work and a huge thank you to the citizens of Newberg and Dundee for your ongoing support and goodness!
Runners and walkers, with friends and family, kicked off their Thanksgiving Day at the GREAT TURKEY FUMBLE Thursday morning. Thank you Newberg community for making it such a fun morning in spite of the rain! 255 pounds of donated food for the holiday season was added to our FISH emergency food bank. We love our community!