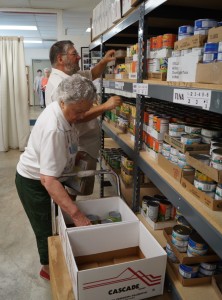 Newberg FISH is a member of the Oregon Food Network, a cooperative network of agencies focused on providing emergency food. FISH is an acronym, which stands for Friends In Service to Humanity. Newberg FISH focuses its efforts on providing emergency food services, as well as cooperating with other local agencies to help people meet other critical needs such as housing, medical and dental care, and job placement. Newberg FISH staff members are 100% volunteer, as they have been since our founding in 1970. Last year, Newberg FISH assisted 16,388 people (average 1,366 each month) and 4,648 households (average 387 each month). 2015 marks our 45th anniversary. Forty-five years after our founding, our focus is still neighbors lending a hand to local neighbors and families in need.
Newberg FISH will be closed on Tuesday, July 4 in honor of Independence Day!
Important Information for our clients: Newberg FISH will no longer open the 4th Saturday of the month. We hope our Saturday clients will come in on Tuesday evenings. We will continue to be open every Tuesday evening from 5:00 to 7:00 pm in addition to our regular hours on Monday, Tuesday and Thursdays from 10:00 to 1:00.
Newberg FISH was sadden to learn of the passing of this incredible woman, she served as our executive director for 20 years and was the face of FISH to so many. It is volunteers like Judy through their support that has enriched our agency for over 47 years. If any FISH past or present volunteers would like to attend Judy's service, please contact FISH and let us know. Her service will be held at Macy's Funeral Home in McMinnville on Friday, June 2 at 2:00 pm Newberg FISH Emergency Services will always be deeply grateful to Judy for her 22 years of service to our organization. Judy was instrumental in so many aspects of the organization, including serving as our first Executive Director, incorporating FISH as a nonprofit, first computerizing our records, and formalizing the client application process just to name a few. Judy's legacy has helped FISH to continue to expand to help those in need in Newberg and Dundee. We and all of those we serve have been blessed by Judy's vision and love.
November 30, 1943 - May 23, 2017 Judith Katherine Christensen passed away on May 23, 2017, with family by her side after a lengthy fight with cancer at her home in Dayton, Oregon. Judy was born in Memphis, Tennessee on November 30, 1943, to her parents, John and Dorothy Tambini. John passed away whe...
macyandson.com